Gold Hot Stamping Business Card | Burgeon, Petaling Jaya
On the first sight of seeing the design from Burgeon, the Gold Hot Stamping Business Card concept looks gorgeous. The blending of the hot stamping and the design is superb. The business card is simple and yet looks luxurious and elegant.
Now the challenge is to turn creativity into reality. We have selected a creamy uncoated thick card as the business card material. Combining with high-quality offset printing and hot stamping, Burgeon name card received excellent feedback.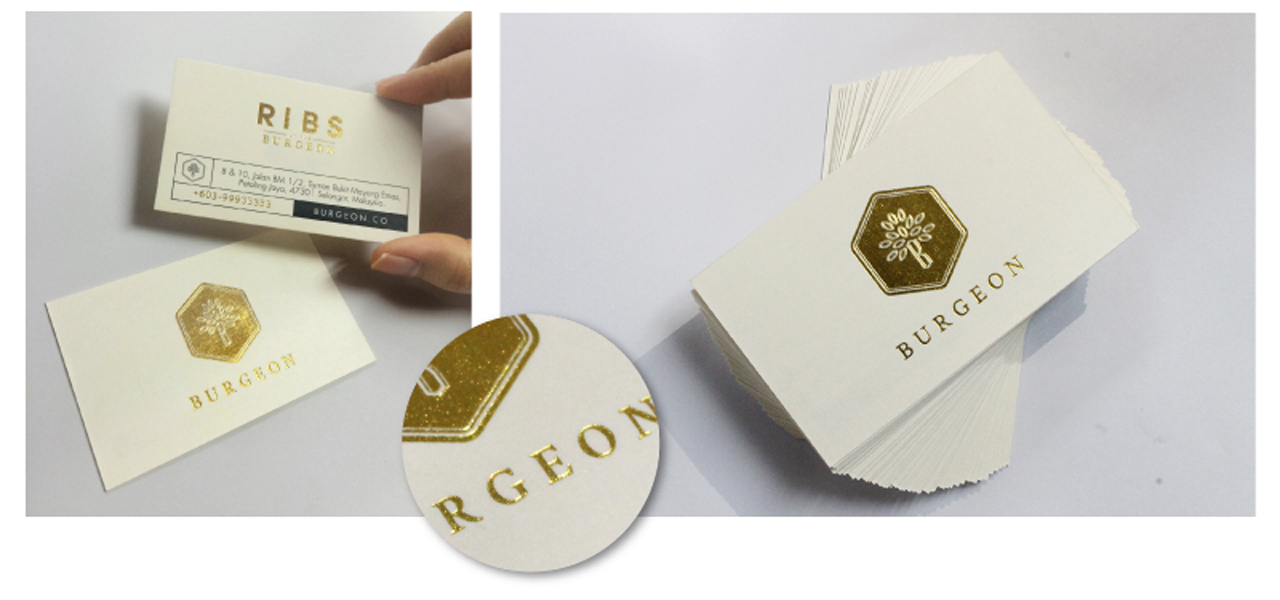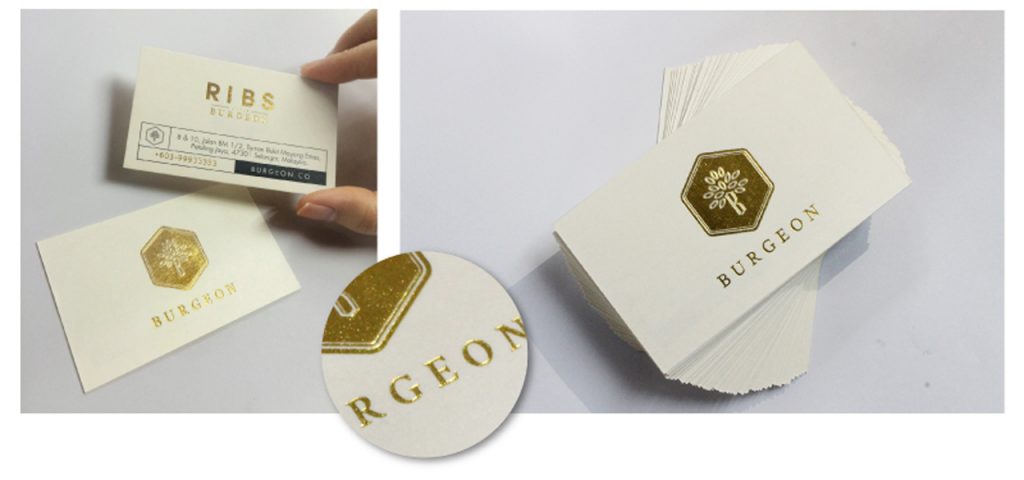 Gold Hot Stamping Business Card Specification
Material: 315gsm Creamy Special Card Stock
Process: Offset Printing
Finishing: Hot Stamping
**There is another card design by Burgeon. (Click here to view)
Gold Hot Stamping Business Card in Malaysia
Hot stamping of business cards is the most popular way to make an ordinary business card more expensive, to make a business card creative.
On some exclusive and creative business cards, you don't even need to print, but simply apply an image from colored foil.
In combination with design paper, gold hot stamping business cards give a stylish look and emphasizes the good taste of its owner.
And since the price of foil stamping of business cards is commensurate with the cost of printing a business card, this method of making exclusive and creative VIP business cards is more than justified.
In addition to business cards, foil stamping looks great on product packaging, gift certificates, or paper bags. The relief convex embossing looks especially advantageous.
The quality of the hot stamping business card result and the amount of scrap depends on many things:
Quality of cliché manufacturing, it's processing and precision of fine lines of the stamp;
Foil manufacturer
Characteristics of the thermal press – its performance, the ability to fine-tune temperatures, pressure, paper positioning accuracy;
So we are here to provide you a high-quality gold hot stamping business card that attracts customers and you will definitely feel good at the time of giving your gold hot stamping business card.