Bronze Hot Stamping Business Cards | ZADC Studio, Puchong
Do you want to know about hot stamping business cards? If you made a plane to search out the benefits of stamping a business card, then you reached the right place. Usually, all the business card helped to contact the business office or any local shop. But, now everything changed in a new way. People do not like the lower material card. If you want to use the business card for the marketing of the business, then you must have to invest maximum here on foil stamping business cards as did in the entire industry set up.
Bronze Hot Stamping Business Cards in Malaysia
Hot stamping business cards introduced in the market to get rid of the entire formal card. Foil business cards did not have any change in it. The attractive and heavy material card takes place automatically in the wallets of people rather than the lousy material. Sometimes, your card washes out in the washing machine; the quality of this card ensured us to save it from water. Moreover, the business card would be the first impression in front of the customer. Metallic foil business cards are costly as per the others. I have seen that a lot of people visited the place by getting information from the menu. If you have useful things there instead of a showpiece, then it is a good source of advertisement.
ZADC Studio's design is simple. In order to enhance their name card, they decided to use hot stamping.
After considering of using gold or bronze hot stamping, they decided to go for Bronze Hot Stamping and the effect came out very nice and classy.
Overall of the business card is simple and classy.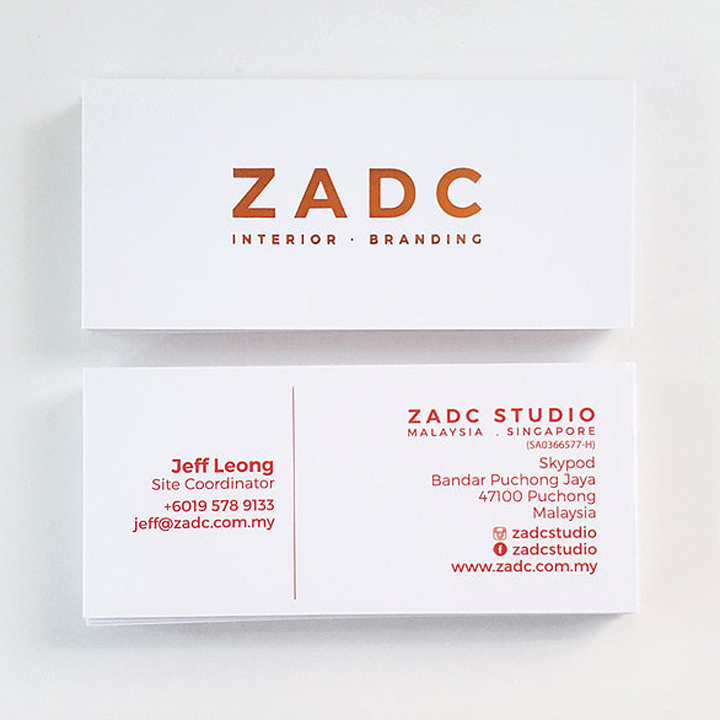 Hot Stamping Business Cards Specification
Material: 310gsm Art Card
Process: Offset Printing
Finishing 1: Matte Lamin
Final Words
After giving advertisement of business on social media and Television, the foil print business card is another source to increase the attraction of people towards your location. However, I have manipulated all the detail very carefully, but if you still have any questions in your mind, then go to the official site of hot stamping business cards for accurate descriptions. I suggest checking all the material before to pay some advance to the card makers. The design of the menu included pictures and words also played a vital role in marketing.